There has never been a better time to explore a career as a supply chain manager. Supply chains are the global systems that connect and integrate procurement, operations, implementation, logistics, and more. Build the solid foundation you need to hit the ground running as a new supply chain manager.
Review roles and responsibilities of supply chain managers.
Study the system connecting operations, logistics, and more.
Build the knowledge and skills needed for supply chain jobs.
This site contains affiliate links. We may be compensated if you make a purchase after clicking on our links.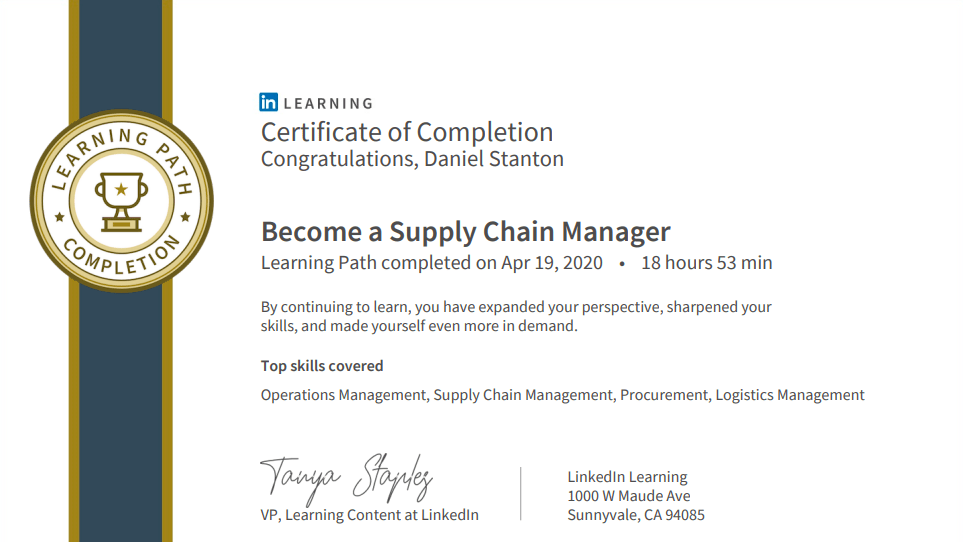 Careers in Supply Chain and Operations
By: Daniel Stanton

Course details

59m
Beginner
Released: 4/8/2019

Smart supply chain management helps companies save money and respond faster. It's critical to staying competitive in today's global economy. That's why demand for supply chain skills is increasing faster than ever. For people interested in supply chain management, operations, logistics, or procurement, there's never been a better time to get started. This course can help you understand the roles, skills, and networking opportunities available, so you can get a job and prepare for a future in this lucrative and diverse field. Instructor Daniel Stanton reviews positions in inventory management, transportation, material handling, sourcing, purchasing, manufacturing, engineering, IT, robotics, HR, and more. He helps you set your career goals and build your skills, one tutorial at a time.

Learning objectives

Explain the best approach for transitioning into a supply chain position.
Determine the types of supply chain jobs that are the best fit for a given set of skills.
Interpret the knowledge and skills needed for a supply chain job.
Describe how to use resources for building a career roadmap in supply chain management.
Identify concepts in building a professional development dashboard.
Job Skills: Supply Chain and Operations
By: Daniel Stanton

Course details

32m
Beginner
Released: 2/14/2019

There are certain basic competencies that every professional needs to excel on the job. In this collection of lively animated videos, dive into the most essential skills that professionals—specifically those focused on supply chains and operations—need to succeed in the workforce. Learn how to communicate effectively with suppliers, customers, and colleagues, as well as how to manage inventory and forecast demand—all in two minutes or less! Instructor Daniel Stanton also details how to collaborate and schedule meetings across multiple time zones, improve processes, successfully plan ahead, and more.

Learning objectives

Determine the best approach for communicating with others in a supply chain.
Distinguish the factors for collaborating across supply chain time zones.
Explain the steps in the order process.
Interpret a best practice when forecasting demand.
Describe the elements of managing a project plan.
Supply Chain Foundations
By: Eddie Davila

Supply Chain Foundations

Course details

1h 33m
Beginner
Updated: 7/8/2019

What is supply chain management (SCM)? It's the system that connects and integrates the links of sourcing, procurement, conversion, and logistics management. In this course, professor Eddie Davila provides a detailed overview of all of the links in the typical supply chain. He explains what is involved in purchasing inventory and setting up supplier relationships, what you need to consider when deciding how to manufacture and design your product, and, lastly, how to address the logistics of distribution and delivery. Plus, get a glimpse into the world of the supply chain manager by discussing some of the hottest issues in SCM today: how to go global, the role of ethics and sustainability, and how SCM can help with disaster relief.

Learning objectives

Identify parts of a supply chain.
List the keys to successful global supply chain management.
Describe the concept of inventory in supply chain.
Explain how to choose a supplier.
Work with SCMs in different industries.
Describe how to transport and distribute your product.
Integrate and coordinate the entire supply chain.
Create ethical and sustainable supply chains.
Purchasing Foundations
By: Steven Brown

Purchasing Foundations

Course details

1h 18m
Intermediate
Updated: 4/8/2019

Purchasing departments add value and maximize savings for their organizations. In this course, supply chain expert and professor Steven Brown outlines the purchasing process and provides guidance for evaluating, selecting, and managing suppliers. He also addresses the roles of cost management and strategic sourcing, and the legal and ethical considerations involved. Plus, learn about special topics such as indirect spend on services (including transportation and utilities), resourcing, and supply chain performance management.

Learning objectives

Explain the purchasing process.
Define purchase order.
Describe the intent of a purchasing policy.
Distinguish types of purchasing structures.
List the steps of selecting a supplier.
Identify enablers for success in worldwide sourcing.
Perform price and cost analysis.
Measure supply management performance.
Logistics Foundations
By: Steven Brown

Logistics Foundations

Course details

1h 44m
Beginner
Released: 8/15/2015

Logistics play a critical role in a company's success. In this course, professor Steven Brown explains the role (and importance) of logistics, from factory to customer and supplier to factory. He also covers some key decisions, processes, and strategies: Do you make products or buy them? What kind of transportation do you use? Where are your warehouses? How do you manage inventory? And what information system do you use?

These lessons will help you understand the importance of logistics and help your company prepare for efficient delivery, distribution, and inventory. Plus, get insights on the latest logistics trends.

Learning objectives

Define order fulfillment.
Describe the significance of logistics.
Explain outbound and inbound logistics.
Distinguish among transportation options.
Explain the Bullwhip Effect.
Identify types of obstacles to coordination.
Manage customer requirements.
Describe how to differentiate your company.
Inventory Management Foundations
By: Steven Brown

Inventory Management Foundations

Course details

1h 20m
Beginner
Released: 8/29/2018

The success of a business can hinge on how its inventory is managed. There are costs to having too little—or too much—inventory on hand. In this course, instructor Steven Brown equips you with tools and strategies that can help you get inventory control right. Steven begins by going over the different types of inventories and highlighting both the traditional and hidden costs of inventory. He then dives into inventory management, discussing reasons to hold inventory, as well as how to approach production inventory, finished goods inventory, and service inventory. He also goes over control systems, and shares tools and management methods that can help you effectively analyze and control your inventory.

Learning objectives

Describe what takt time is and why it's used.
Explain how using standardized parts reduces costs.
Summarize the importance of quality at the source.
Cite who should manage lean inventory.
Describe how to create a lean culture in your business.
Implementing Supply Chain Management
By: Daniel Stanton

Course details

1h 25m
Intermediate
Released: 9/18/2018

Supply chain management is the system that connects and integrates the links of sourcing, procurement, conversion, and logistics management. By understanding how to manage this complex system—and ensure that key business functions are properly integrated—you can increase profits and reduce costs and risks. In this course, instructor Daniel Stanton steps through how to implement supply chain management in your company.

Daniel goes over the different supply chain processes that must be managed in an integrated way: plan, source, make, deliver, return, and enable. He uses this process view to describe the key challenges that supply chain managers need to address, the notable trends that are forcing supply chains to evolve, and a five-step process for helping your company implement supply chain management effectively.

Learning objectives

Explore the fundamentals of source inputs within a supply chain.
Examine the role of returning products in a supply chain.
Determine how to calculate total costs.
Explore the role of investing in flexibility when managing a supply chain.
Discover how to increase visibility with a control tower.
Identify the role innovation plays in supply chain management.
Examine how artificial intelligence and machine learning help to monitor supply chain trends.
Break down the fundamentals of selecting the right technology when implementing a supply chain agenda.
Determine the best ways to collaborate externally when implementing a supply chain agenda.
Process Improvement Foundations
By: Chris Croft

Process Improvement Foundations

Course details

1h 18m
Beginner
Updated: 1/9/2020

The objective of management is to make improvements—not only to products and services but also to entire processes. The difficult thing is to know what needs improving, and then whether your interventions have made a positive difference. This course provides an overview of the basic tools used for process improvement, such as statistical process control, and how to use these tools to improve the three most critical aspects of your business process: time, quality, and cost. Chris Croft distills the best practices from process improvement frameworks such as Lean and Six Sigma, and combines them into lessons that will help take the core of what your business does, measure it, and do it better.

Learning objectives

Recall how to measure processes.
Discover how to use statistical process control.
Assess the quality, cost, and time trade-off.
Analyze methods of reducing cost by reducing waste.
Identify how to improve delivery time.
Define the Lean and Six Sigma processes.
Quality Management Foundations
By: Steven Brown

Quality Management Foundations

Course details

1h 1m
Beginner + Intermediate
Released: 4/24/2019

A company's success is largely determined by how well its employees understand and manage quality in their daily activities. In this course, instructor Steven Brown defines quality from a business perspective and covers major quality frameworks, tools, and strategies that you can leverage to more effectively manage quality in your company. Learn how to differentiate between the different ways quality is defined within your organization and your supply chain. Explore the key characteristics of major quality management frameworks, how several important quality tools help to improve performance, and how each of the three major quality strategies can contribute to a company's long-term success.

Learning objectives

Functional views of quality
Frameworks for quality management
Deming's 14 points
Pareto analysis
Lean quality methods
The six sigma method
Benchmarking
Measuring the cost of quality
Lean Six Sigma Foundations
By: Steven Brown

Lean Six Sigma Foundations

Course details

1h 10m
Beginner
Updated: 4/4/2019

Lean Six Sigma combines the principles of lean enterprise and lean manufacturing with Six Sigma to improve performance and systematically remove waste. Supply chain expert and professor Steven Brown explains the basics of using Lean Six Sigma as a structure for your improvement efforts.

Steven outlines the process stages in Six Sigma (define, measure, analyze, improve, and control), along with the Lean toolkit: the 5s principles, kanban (scheduling), downtime, poka-yoke (error proofing), and kaizen (continuous improvement). He also explains how leadership works within Lean Six Sigma, the principles of project execution, and how Lean Six Sigma is applied to the service sector and supply chain management. Make sure to watch the "Next steps" video at the end of the course for further resources.

Learning objectives

List the three main focuses of Six Sigma.
Explain why lean is an important element of the Six Sigma approach.
Summarize why Control is the most important step in the Six Sigma process.
Analyze variables to determine if they are a good performance measurement.
Describe three typical methods of improving supply chain functions.
Identify three things you will need in order to lead a Lean Six Sigma project effectively.
Supply Chain and Operations Management Tips
By: Daniel Stanton

Course details

2h 50m
Beginner + Intermediate
Updated: 3/26/2019

Supply chain and operations management is a profession that evolves quickly. Investing in your professional development will pay for itself in time and money. This series helps you review the latest in supply chain and operations management in bite-sized chunks. Logistics expert Daniel Stanton covers topics to improve your knowledge in operations and supply chain management. Learn about adopting strategic sourcing, enforcing supply chain security, minimizing the Bullwhip Effect, and more. You should leave each video knowing how to immediately apply your newfound knowledge to your role in operations-and directly increase the value you deliver to the customer.

Learning objectives

Identify the primary steps for strategic sourcing and sustainability.
Distinguish between the approaches for driving continuous process improvements and managing risks.
Break down two calculations that help determine whether a supply chain project should be invested in.
Interpret the use of strategic workforce planning.
Describe two opportunities for managing and improving a supply chain.
Explain how best to build a career with supply chain operations management experience.
Analyze two means of managing suppliers in a supply chain.
Leading Projects
By: Daniel Stanton

Course details

2h 11m
Intermediate
Updated: 6/24/2020

Cross-functional projects are common in today's business environment. Leading these types of projects involves being able to structure teams and plans effectively. In this course, Daniel Stanton provides the techniques needed to adopt an efficient approach using the DIRECT project leadership framework. He explains how to define the scope, investigate options, select a course of action, and execute a plan. He also discusses how to revise processes and help people transition with change. Projects large and small can benefit—from enhancing platforms and launching new products to replacing outdated procedures and breaking ground on new facilities.

Learning objectives

Name who is responsible for approving the resources for the project.
Recall what the spine of a fishbone diagram represents.
List characteristics of the environment.
Identify the tools used for mapping processes.
Recognize what needs to be captured on the action item list.
Recall what project metrics should be related to.
Finance for Non-Financial Managers
By: Kay Stice and Jim Stice

Finance for Non-Financial Managers

Course details

1h 23m
Intermediate
Updated: 12/20/2019

If you're looking to grow your career and take on greater responsibility within your organization, you'll need to demonstrate a basic understanding of financial management—even if you're not in a financial role. You don't have to be a numbers person! You just have to appreciate their role in business. In this course, accounting professor Jim Stice helps you develop the financial acumen necessary to interpret financial reports and make decisions based on available data, manage inventory and receivables, create an accurate budget, and cost a product or service. Plus, learn how to analyze your customers, understand your income taxes, and communicate your contribution to the bottom line.

Learning objectives

Describe how decision-makers use accounting in a business.
Recognize limitations in financial statement analysis.
Relate the purpose of financial ratio analysis.
Determine the primary reason for managing cash through the operating cycle.
Define the role of efficiency in creating budgets.
Identify differences between federal income tax and other taxes, such as state sales tax.