Become a more confident supply chain manager. Learn critical skills to manage global supply chains effectively and efficiently. After completing this learning path, you'll advance your skills in project management, process improvement, quality management, supply chain analysis, leadership, and more.
Study supply chain process improvement and quality management.
Develop critical supply chain skills.
Learn supply chain analysis and analytics.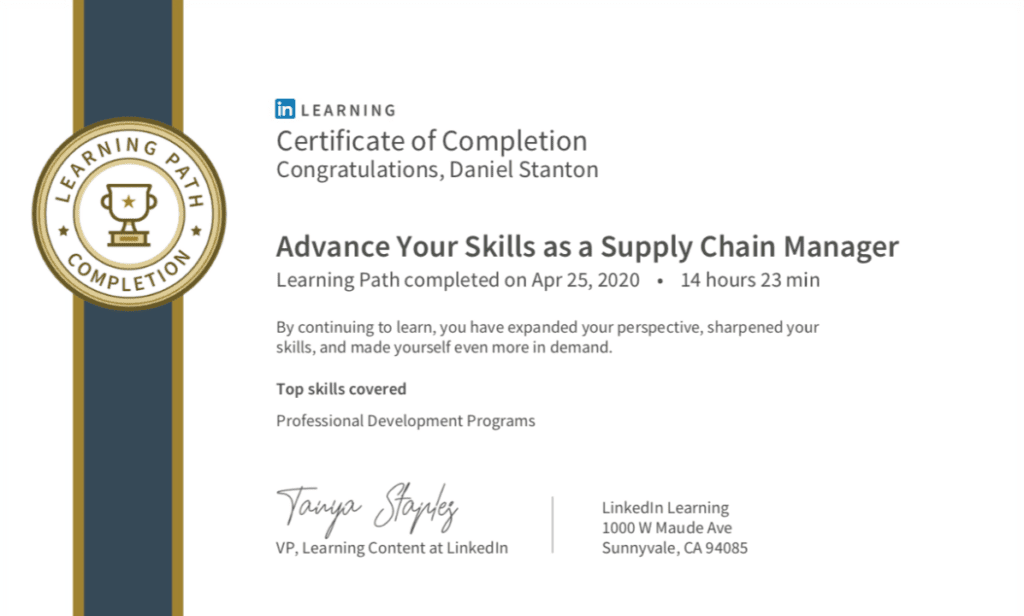 Welcome from Business Acumen for Project Managers by Daniel Stanton
Business Acumen for Project Managers
By: Daniel Stanton

Business Acumen for Project Managers

Course details

1h 15m
Beginner + Intermediate
Released: 4/19/2017

In today's competitive marketplace, it's not enough for a project manager to know how to implement the latest project management methodologies. To excel in the role, you must understand how business really works, and how to align your project with the larger purpose of your organization. In this course, learn core strategic and business management skills that can help to bolster your business acumen.

Instructor Daniel Stanton begins the course by reviewing the key skills highlighted in the Project Management Institute (PMI) Talent Triangle, and explaining how strategy and business management fit into your professional development. Next, he explains how to align your project with the priorities of your organization, and effectively communicate the goals, benefits, and risks of your project to your stakeholders. Then, he walks through the different business functions in an organization, including marketing and sales, supply chain management, human resources, and information technology. To wrap up, Daniel explains how to leverage your business acumen to collaborate effectively with individuals throughout your organization.

Learning objectives

Identify the role of business acumen in the PMI Talent Triangle.
Recognize that projects are how businesses implement changes.
Explore the characteristics of a SMART goal.
List several business benefits of good customer service.
Identify common financial documents.
Review common financial analysis methods.
Recall the three common approaches to continuous process improvement.
Identify the differences between strategic, tactical, and operational goals.
Project Management: International Projects
By: Sam Yankelevitch

Course details

1h
General
Released: 1/4/2019

Excellent collaboration and communication are key ingredients that help project teams reach successful outcomes. This is particularly true when team members must interact in the additional complexity of multicultural settings and physical distance. By learning how people from other cultures understand things differently, you can enhance collaboration and communication in your international team—and improve your chances for positive project results. In this course, instructor Sam Yankelevitch shares techniques that can help project managers effectively manage projects in settings where team players are separated by culture, language, and distance. Learn how to best communicate with suppliers and customers in global situations, how power distance affects decisions and execution, how to build trust when the people you work with are far away, and more.

Learning objectives

Explain how leadership behavior drives strong collaboration between team members.
List three skills that help teams collaborate successfully.
Name some of the negative effects that language, culture, and distance can have on a project.
Determine how you can reduce the impact of time zones on collaboration.
Recognize the differences between a high-context individual and a low-context individual.
Define the terms "monochronic" and "polychronic".
Project Management Foundations: Integration
By: Oliver Yarbrough

Project Management Foundations: Integration

Course details

44m
Beginner
Released: 11/5/2018

In order to keep a project on track from kickoff to completion, it's critical that you have a mastery of integration management. Project Integration Management ensures all processes in a project run smoothly, and results in a properly synchronized series of deliverables such as the project charter and plan. In this course, Oliver Yarbrough details how to properly approach Project Integration Management, providing project managers with tactical knowledge on how to successfully integrate all the components of a project. Along the way, Oliver goes over each of the key processes in the Project Integration Management Knowledge Area; shares best practices for managing project constraints and facilitating interactions; and acquaints you with emerging trends, including artificial intelligence.

Learning objectives

Explain the importance of creating a project management charter.
Describe the purpose and contents of a project management plan.
Summarize the integrated change control process.
Identify the process of closing out a project or phase.
Operational Excellence Foundations
By: Richard Chua

Operational Excellence Foundation

Course details

1h 32m
General
Released: 4/4/2018

Understand and apply operational excellence to improve your organization's processes, products, and services for sustained competitive advantage. Dr. Richard Chua, consultant, professor and certified Lean Six Sigma Master Black Belt trainer, explains the fundamentals of operational excellence-from key concepts and tools to methodologies and implementation best practices. He explains lean principles and shows how to eliminate variation, operationalize the voice of the customer (VOC), error proof, and build in quality at the source. He covers methodologies such as Lean Six Sigma (DMAIC), Kaizen, Design for Six Sigma (DMADV), and value stream management (VSM), and shows how to choose the right one for your application. He concludes by sharing implementation best practices to drive the right mindset, behaviors, and results for sustaining operational excellence.

Learning objectives

What is operational excellence?
Key concepts and tools
Choosing the right methodology
Implementation challenges
Auditing for sustained excellence
Lean Foundations
By: Steven Brown

Lean Foundations

Course details

1h 36m
Beginner
Released: 11/30/2017

Learn about lean: an operations management approach that means creating more value for customers with fewer resources. A lean organization understands customer value and focuses its key processes to continuously increase it. The ultimate goal is to provide perfect value to the customer through a value creation process that has zero waste.

Lean concepts have been successfully applied to every aspect of doing business. In this course, learn the principles of lean and how they are used in processes, production, and services. Instructor Steven Brown also explains how lean thinking impacts the organization, from the overall business culture to day-to-day work activities.

Learning objectives

Cite the focus of a lean strategy.
Explain what a "rule of complexity" is.
Name the three key measures of inventory.
List the 5S tools.
Define a lean transportation system.
Describe the characteristics of a lean purchasing organization.
Identify the characteristics of a lean company.
Six Sigma Foundations
By: Richard Chua

Six Sigma Foundations

Course details

1h 51m
Beginner
Updated: 1/27/2020

Learn how to apply Six Sigma to drive improvements in the performance of your processes, products, and services. Dr. Richard Chua explains the fundamentals of Six Sigma—a customer-focused, data-driven approach to improvement. He'll go over the basic concepts, including critical-to-quality (CTQ) requirements, variation, defects per million opportunities (DPMO), the roles and belts of Six Sigma professionals, and the criteria for identifying Six Sigma projects successfully. The rest of the course walks through the five phases of Six Sigma DMAIC—Define, Measure, Analyze, Improve, and Control—and the steps, data, and key deliverables involved in each phase.

Learning objectives

What is Six Sigma?
Key concepts such as Y = f(x) and sigma level
Selecting Six Sigma projects and team members
Planning in the Define phase
Gathering data in the Measure phase
Analyzing data in the Analyze phase
Evaluating solutions in the Improve phase
Developing a control plan in the Control phase
Data Analytics for Business Professionals
By: John Johnson

Data Analytics for Business Professionals

Course details

1h 17m
Intermediate
Released: 1/29/2018

What can data analytics do for your business? Take a lesson from companies like Xerox and UPS. Data analytics can help cut costs, speed up delivery, generate forecasts, and make better decisions. In this introductory overview, economist and author John Johnson shows leaders and executives how to use analytics to make data-driven decisions and gain competitive advantage. First, see examples of real-life analytics in action. Then explore the differences between predictive and prescriptive analytics, and find out how to formulate questions—a process that can be almost as revealing as finding the answers. John then shows how to collect, clean, and aggregate data from different sources across your organization, and identify when data is flawed. Then learn how to plan and deploy an analytics strategy for your business, starting with a variety of simple techniques: averages, sampling, cherry picking, forecasting, and correlation and causality. Finally, John closes with some resources and next steps to advance your analytics knowledge.

Learning objectives

Determine what data analytics can do for your business.
Define the different types of data.
Identify how to calculate descriptives.
Recognize the role of predictive analytics in your business.
Identify the definition of prescriptive analytics.
Examine the essentials to crafting better questions.
Explore a case study to determine the correct question to ask.
Identify the types of data collection issues that could arise.
Determine the steps to take when there is a data fail.
Define "cherry picking" in data analytics.
Measuring Business Performance
By: Eddie Davila

Measuring Business Performance

Course details

1h 37m
Intermediate
Released: 3/1/2017

All organizations are looking for that perfect metric—the one data point that will tell them everything they need to be successful. Companies can make a ton of errors in measuring themselves, but developing better metrics can be challenging. In this course, instructor Eddie Davila explains why it's important to measure performance and highlights some of the most common errors in measuring your own company's performance. He explains what makes a good metric, how to evaluate your current measurement system to see if it aligns with your organization's goals, and how you can develop and test a system of measurement from scratch. Along the way, he also covers the importance of data visualization tools such as dashboards and infographics.

Learning objectives

Explain why metrics are necessary in business settings.
Define KPIs.
Identify the issue of attempting to reach 100% in a given metric.
Summarize the limitations of metrics.
Recall the three steps for making a metric understandable for employees.
Describe the characteristics of an effective metric.
Compare and contrast the costs and benefits of measuring too many versus too few metrics.
Requirements Elicitation and Analysis
By: Angela Wick

Requirements Elicitation and Analysis

Course details

1h 27m
Beginner + Intermediate
Released: 8/20/2017

To define great requirements, it's not enough to simply ask customers and stakeholders what they want. By leveraging requirements elicitation and analysis techniques, business analysts can come up with more innovative solutions. In this course, explore these techniques, and learn why they're important, and how to blend them together and tailor them to your project. Angela Wick provides an overview of the process, and discusses how elicitation and analysis work together. She also covers different ways of gathering requirements—such as brainstorming, observation, and workshops—before moving on to analysis techniques such as context diagrams, user stories, and decision tables. At the conclusion of the course, she explains how to select the right approach for a particular product or project type.

Learning objectives

Define elicitation and analysis.
Identify why elicitation and analysis are important.
Recognize the key mindsets to make elicitation and analysis successful.
Explore the role of brainstorming in elicitation.
Examine the fundamentals for utilizing observation in elicitation.
Discover the usefulness of well-run requirement workshops.
Identify the elements of a well-done context diagram.
Identify the elements of a data flow diagram.
Learning Supply Chain Cybersecurity
By: Emma Osborn

Learning Supply Chain Cybersecurity

Course details

59m
Beginner
Released: 5/28/2019

Business supply chains are becoming more complex and reliant on technology. This opens them to unique cyber risks—and increased regulatory requirements. Explore the challenges, considerations, and potential conflicts of interest businesses face as they begin to address cybersecurity in the supply chain. Dr. Emma Osborn discusses how supply chains are evolving, and the different ways that businesses within the supply chain interact. She reviews examples of real-world supply chains and uses these to explore how the scope of cybersecurity risk is creeping past traditional organizational boundaries. You can then learn some approaches for managing relationships and improving supply chain security, discovering what works best for each scenario.

Learning objectives

Recognize how business and technology together create a supply chain cybersecurity problem.
Identify how cybersecurity defines and maintains boundaries.
Analyze how common cybersecurity practices compare to supply chain security issues.
Give examples of how cybersecurity is implemented throughout an organization.
Differentiate between prescriptive-based requirements and goal-based cybersecurity, with an identified supply chain risk.
Provide evidence for why communicating about cybersecurity between businesses can be daunting.
Counterintuitive Leadership Strategies for a VUCA (Volatile, Uncertain, Complex, Ambiguous) Environment

Counterintuitive Leadership Strategies for a VUCA Environment

Course details

57m
Advanced
Released: 8/13/2019

Learn how to use counterintuitive leadership strategies to meet the demands of a VUCA (volatile, uncertain, complex, ambiguous) environment that is digitally overwhelmed and moving at an unprecedented pace. In this course, leadership expert Sara Canaday teaches the value of moving beyond your attachment to the practices and habits that may no longer be serving you. Discover new methods that you can put to use immediately to make your work more meaningful and manageable.

Learning objectives

Adopting the strategic pause
Disrupting your thinking
Balancing hard data with soft intelligence
Reevaluating your to-do list
Communicating to influence and engage
Approaching challenges as a novice
Blazing new trails
Conquering the chaos
Enduring leadership attributes